REMEMBERING AND CELEBRATING REAL WOMEN
ACS will -- after a two year hiatus from in-person concerts -- host our musical celebration of the centennial of women's suffrage, All of Us, on April 8, 2022. At this event, we will honor our grandmothers, great-grandmothers, mothers, and other family and friends who were alive at this moment in time. 
The 1,000 Grandmothers project is inspired by a song that will be performing at this upcoming concert: 1,000 Grandmothers, by Holly Near and J. David Moore.  We are moved to include our foremothers by some of the lyrics of this powerful song: 
Send in a thousand grandmothers 
They will surely volunteer. 
With their ancient wisdom flowing 
They will lend a loving ear. 
We are now collecting stories and photographs of women who were present during the 1920s and are connected to our community of singers and music lovers. These stories are as diverse and exciting as the many people who will be lifting them up. We invite our singers, local organizations, and Asheville businesses to be a part of this campaign. 
We invite you to join us in this project as both a financial supporter (suggested minimum donation $25) and as a contributor. We would love to include your stories and lift up these women for our audiences. Submissions due March 31, 2022.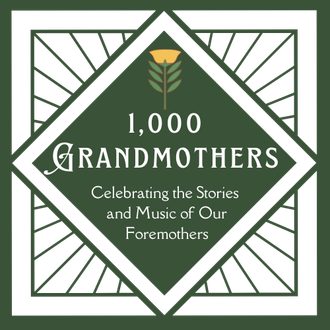 1,000 Grandmothers Donation
Donate to Our Campaign and Include Your Grandmother (or Any Fabulous Woman in Your History) in Our Video and Audio Collection. Suggested donation is $25.
Enter the amount you wish to donate
1,000 GRANDMOTHERS SUBMISSION