singing safely through the covid-19 crisis
INTRODUCTION
The Asheville Choral Society exists to advance singing and the choral arts in Western North Carolina. As Coronavirus spread globally, life changed very quickly for everyone. For ACS's singers and leadership, we had to shift our plans dramatically, as it was suddenly unsafe for singers and audiences for us to perform in person. 
ACS's two spring 2020 concerts had to be postponed until a time when we could sing together. Rehearsals were postponed throughout the remainder of the 2020-2021 season. Singers and audience members expressed bitter disappointment, and a strong desire to keep singing, in one way or another.
2021-2022 SEASON PLANS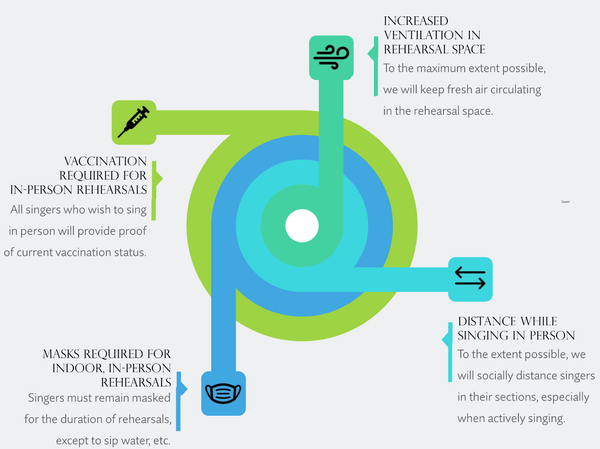 In the fall of 2021. we returned to in-person rehearsals for vaccinated, masked singers. ACS leadership has formed a Safety Committee chaired by two frontline health professionals to inform our protocols. They continue to monitor local health trends and mandates and will advise our rehearsals moving forward, along with any potential performances.
To help keep singers as safe as possible, we are maintaining the following protocols:
All singers who attend in-person rehearsals must be vaccinated and show proof of vaccination.
All singers who sing in person must be masked until guidelines change.
We will sing socially distanced from each other until guidelines change.
We will offer maximum indoor ventilation to keep airborne droplets to a minimum.
An online, Zoom option will be available throughout the season to include singers who aren't able or who choose not to be vaccinated. We will also encourage singers who feel at all uncomfortable or under the weather to employ this tool until it is appropriate to return.
2020-2021 SEASON MODIFICATIONS
In 2020, ACS leadership determined that in-person rehearsals and performances would be unsafe for the near future. Sadly, singing in large groups -- like ACS's 120-member chorus -- was a particularly dangerous activity for unvaccinated folks, but we wanted to continue singing together. For ACS, in 2020-2021, this translated to several new activities have been activated: 
ACS's main chorus  held rehearsals online. Learn more online here. Our virtual season included videos and other learning materials, live Zoom rehearsals, and other ways to connect, like our online happy hours, pictured below, to retain connection.
ACS's elite ensemble, Tempus, and our full chorus prepared online shared video and audio recordings.
ACS is generating new ways to broadcast our business supporters' generosity online and in social media. 
Stay tuned to ACS's website and social media feed to learn about our plans for online learning and singing together, and to see when we next be performing live in person in the future. We will make these decisions with the utmost seriousness, and in partnership with state and local health officials.
Stay safe, and keep singing!