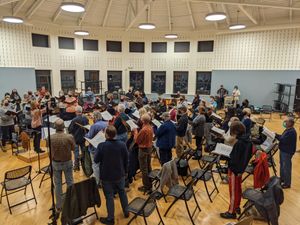 2021-2022: A season of transition
The Asheville Choral Society returned to rehearsals and performance in our 2021-2022 season, balancing safety and the drive to learn and perform. Explore highlights and learnings from our season in this annual review.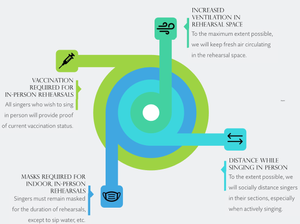 Returning to Rehearsals: COVID Safety protocols in action
After a fully virtual 2020-2021 season, ACS returned to rehearsals in the fall of 2021, with a vaccination and masking requirement. Following a rigorous 4-layered approach to singer-safety, we were all thrilled to return to learning and singing together.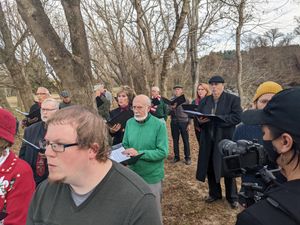 Yuletide Candlelight 2021
While in-person performance still presented too much risk in our assessment, for both singers and audience-members, we were hard at work on our first-ever virtual Yuletide Candlelight. Keeping this annual holiday tradition alive for us was critical. We recorded audio for our project indoors, in masks, and recorded video outdoors as accompaniment. Together with local videographer, Elijah LaPlante, we shared Yuletide Candlelight with a livestreaming audience in December, 2021.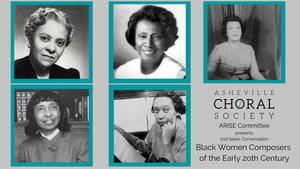 REaffirming our commitment to racial equity
The ARISE committee, a newly-established committee dedicated to our commitment to racial equity, launched a new series of Salons in our 2021-2022 season. These salons help us put our beliefs into action, highlighting Black and BIPOC composers, discussing how racism has impacted how we listen to choral music, and keeping ourselves accountable to preparing a diverse repertoire.